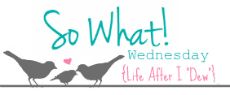 That my house is a crazy mess & has been for over a week. Plus I spent all of yesterday home in my pj's.

I realized after getting to work that my underwear are on inside out & I'm to lazy to fix it.

That I go in the bathroom and pretend to be going only to eat a yogurt and play on my phone without "help"

We never took our Christmas lights down because they were such a pain in the ass to get up. Now thanks to the windstorms and rain this year they are hanging off.

I have tons of work to do but I'm doing this instead

I have a 5K mud run in about a month and haven't even put on real shoes in over 3 months, let alone running shoes

I am looking forward to the weekend only to wear my pj's all day & watch 90210 reruns

I look at tons of houses all over and swear to just to pick up an go SOON

I probably won't wash my hair again until Friday night
Happy Hump Day!!