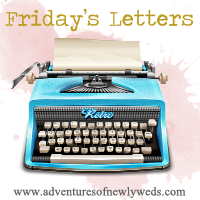 Self,
Get your shit together! You have an amazing life with wonderful people in it, enjoy it & stop stressing so much. You are where your are supposed to be in life.
Work,
I am glad to have you but I still hate waking up to you everyday.
C,
I never knew I could love someone so much until you came along, I will forever be your biggest cheerleader. You have taught me so much about life in 3 short years. Keep being you baby, you will conquer the world.
Hubby,
I love you gazillions & appreciate you, even though I know I don't always show it. I push you because I know you need it & wish you would stand up for yourself more. I can't wait to spend the next 100 years driving you CRAZY!
Weekend,
I beg you, please go slowly! For once I have no plans & really want to enjoy it.